Hi Everyone today we will do a brief Review on boya by-m1 vs boya by-m1 pro. Almost every Youtuber has used boya products. because boya by m1 is one of the most selling mics on amazon or Flipkart in India.  boya gives a very good quality mic at a very cheap rate.
Boya Lavalier Microphone BY-M1  Overview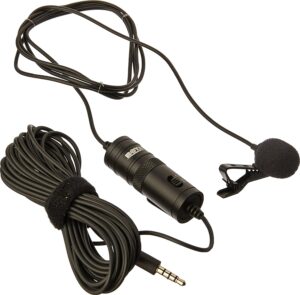 The BY-M1 Omnidirectional Lavalier Microphone from BOYA is compatible with smartphones,
DSLRs, camcorders, audio recorders Mac and Windows computers, and more. The omnidirectional pickup pattern is equipped with full,
360° coverage and the 20′ cable terminates with a 3.5mm TRRS gold-plated mini-jack plug.
The lavalier microphone is powered by an LR44 battery (included) and is equipped with a switch to turn the battery off or on.
When using the microphone with a smartphone toggle the switch off since power is supplied by the smartphone. To operate with a camera, toggle the switch on to use the battery power. A 1/4″ adapter, foam windscreen, and microphone clip are also included.
Top Highlight
For Smartphones, DSLRs, and Camcorders
Omnidirectional Condenser Microphone
Low-Handling Noise
Includes Lapel Clip
Microphone Clip
1/4″ Adapter
LR44 Battery
Foam Windscreen
Boya Lavalier Microphone BY-M1 Pro Overview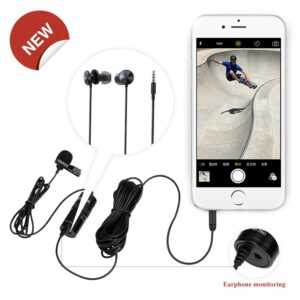 The Boya BY-M1 Pro is a clip-on lavalier microphone designed for presenters and performers making videos using smartphones or DSLR/mirrorless cameras.
The mic features a -10 dB pad switch that allows it to record louder speakers without overloading.
This electret-condenser mic features a forgiving omnidirectional polar pattern that picks up sound from all around the microphone,
giving you more consistent levels, even if the talent turns away from the capsule somewhat. Powered by an included LR44 battery,
the power pack features the pad switch and also offers a headphone jack for monitoring. Three settings are available on the power pack allowing you to use the mic with a smartphone, a camera, or to shut it off and save power.
Top Highlight
 Clip-on Mic for Smartphones, DSLRs, camcorders, audio recorders, PC, etc.
 High-quality condenser, ideal for video use.
Low handling noise.
Includes lapel clip, LR44 battery,
 foam windscreen,1/4" adapter.
Playback headphone monitoring in smartphone mode.
 -10dB sound attenuation.
Usage BY-M1 Pro
BY-M1 Pro lets you interview someone and record the sound. Thanks to its universal applicability and affordable price, the BY-M1 Pro offers a solution for the beginner and advanced filmmaker. A tie pin and windscreen are included for the microphone. You will also receive a handy storage bag.
Boya by-m1 vs Boya by-m1 pro full specification
| | | |
| --- | --- | --- |
| Point to focus  | Boya by-m1 | Boya by-m1 pro |
| Product Dimensions | 12.7 x 5.08 x 10.16 cm; 136.08 Grams | 12.7 x 5.1 x 10.2 cm; 65 Grams |
| Battery Type | Alkaline | Mercury Oxide |
| Included Components | 1 Mic, 1 cable, 1 pouch | Microphone with cable, foam, clip, battery, pouch |
| Pad Switch: | 0db | -10dB |
| Sensitivity | 30dB +/-3dB / 0dB – 1V/Pa, 1kHz. | 30 dB +/- 3 dB / 0 dB=1V/Pa, 1 kHz |
| Connector | 3.5mm (1/8") 4-pole gold plug | 3.5mm (1/8") 4-pole gold plug |
| Earphone Monitoring | No | Yes |
| Frequency range | |  65 Hz ~ 18 KHz |
|  cable | 4-meter | 6-meter |
The difference with the BY-M1
The Pro version has a 3.5 mm output, so you can listen to the sound live with earplugs. In addition, it has a special button that allows you to turn on the attenuation of -10 DB. This is useful when the sound is very loud. The cable length has also been extended; 6 meters compared to 4 meters.
# What is new in Boya by-m1 pro?
it's a compact body, there are a few special and useful functions that distinguish BY-M1 Pro from other general microphones in the market.
With -10dB pad switch, it electively reduces unwanted plosive when the subject sound is very loud and close to the microphone,
makes sure the recording is always clear. With a 3/8″ headphone jack on the bottom, it allows users to monitor sound in smartphone mode.
In order to ensure you have a good experience
Conclusion
Jazz Trend hopes and wishes after reading this article you have now all the knowledge about the Boya by-m1 vs Boya by-m1 pro Review 2020. I really like both mics because both are the best mic under budget
THANK YOU FOR TIME AND  LOVE ……
Recommended to Read: Best DSLR camera