Chips brands in India:  Whenever I heard a word chips one picture always appear in my mind my school days how we all friends are sharing chips while coming home from school. might be a chance you also have a great story with chips please share in the comment box.
What is potato Chips?
Potato chips are deep-fried or baked thin slices of potato served as a snack item and mixed with various flavorings agents and ingredients including herbs, masala, spices, and cheeses. They are liked by people of all age groups
Recommended to Read: Top 7 best cow ghee brands in India
Top 10 Best Potato chips brands in India 2020
1.Lay's – PepsiCo
Lay's is the one of best sellers and popular chips brands in India. The brand has a lot of interesting flavors made from fresh potatoes. Potatoes are shredded and cooked in edible vegetable oils.lay's owned by Pepsico
PepsiCo Foods North America Foodservice offers operators and distributors with world-class brands, insights, recipes, and service.
Lay's come with attractive packing colors.
Customer reviews on Amazon   (4.4 out of 5 stars)
NUTRITIONAL INFORMATION (APPROX) in Lay's Chips
| | | |
| --- | --- | --- |
| | | PER 100g |
| Energy | Kcal | 547 |
| Protein | g | 8.9 |
| Total Carbohydrate | g | 47.6 |
| Of which Sugar | g | 4.1 |
| Total Fat | g | 35.7 |
| Saturated Fat | g | 14.1 |
| Trans Fat | g | 0.1 |
| Sodium | mg | 942 |
| | | |
2.Bingo By ITC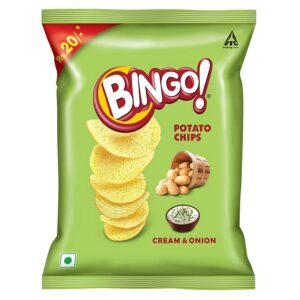 Bingo is the brand name of the country's foremost company ITC. The Bingo is one of the bestselling brands in potato chips, crisps, and snacks.
A Bingo is available in the market with many different flavors such as Achari Masti, Chilli Shamaka, tomato madness, and Premium Salted, Red Chilli Bijli, Red Tomato chips, Tomato Ketchup chips, International Cream & Onion, Masala Remix, and Oye Pudina.
Bingo became famous for the younger generation with its advertising campaigns like Crazy Angles and Bingo tedhe Medha.
It is made with amazing flavors and aromas. These potato chips have a unique and new pattern of shapes. It has become a popular snack for people of all ages.
Bingo Produced by ITC. Potato chips are better choices for kids. Eating twice or thrice a week is enough for your kids. Potato chips are the best healthy snacking options as compared to burgers or pizza.
NUTRITIONAL INFORMATION (APPROX) in Bingo Chips
| | | |
| --- | --- | --- |
| | | PER 100g |
| Energy | Kcal | 543 |
| Protein | g | 8.4 |
| Total Carbohydrate | g | 54.5 |
| Of which Sugar | g | 4.8 |
| Total Fat | g | 32.3 |
| Saturated Fat | g | 14.1 |
| Trans Fat | g | 0.1 |

3. Pringles chips
The Pringles brand of potato snacks is owned by Kellogg's, American brand and the 3rd most popular potato infrastructure in India after Lay's, Bingo.
The pringles can also be found in several flavors and the essence includes potatoes, corn, rice, and some sweets.
Pringles offers tasteful numbers that are always in great demand. Chips have an original flavor that can give a pleasant aroma and taste.
The available flavors are The Original, Sour Cream & Onion, Salt & Vinegar, BBQ Flavor, Cheddar Cheese, Dill Pickle, Ranch Flavor, Jalapeno, Pizza Flavor, Lightly Salted, and Reduced Fat Original Flavor/Sour Cream & Onion Flavors.
Recommended to Read: Top 10 Best Brown Rice in India
NUTRITIONAL INFORMATION (APPROX) in Pringles Chips
| | | |
| --- | --- | --- |
| | | Per 100g |
| Energy | Kcal | 543 |
| Total Fat | g | 31.5 |
| Carbohydrates | g | 59.5 |
| Sugar | g | 0.6 |
| Protein | g | 5.5 |
| Sodium | mg | 455 |
| Trans Fat | g | 0.2 |
| saturated Fat | g | 16.7 |
4.Uncle Chipps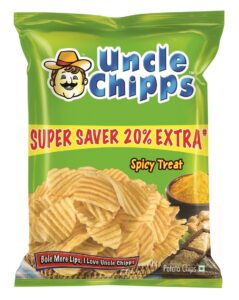 Tagline: "Bole mere lips. I love Uncle Chipps"
Uncle Chipps brand is also very popular in India, Uncle Chips is Running by Amrit Agro limited. These potato chips are a perfect combination of taste and great flavor. The brand offers a wide variety of products such as Spicy Treats, Salty Varieties, Bombat Chilli Masala, Sendha Namak, Jakkas tomato twist. Delhi-based Uncle Chipps was the market leader in the industry, enjoying a 71% market share before 2000
Ingredients:
Potato, Edible Vegetable Oil, Milk Solids, ** Spices & Condiments (Tamarind Powder, Onion Powder, Cumin Powder, Black pepper Powder, Garlic Powder, Turmeric Powder, Large Cardamom Powder, Ginger Powder), Salt, Black Salt, Sugar, Citric Acid, Tartaric Acid.
NUTRITIONAL INFORMATION (APPROX) in Pringles Chips
| | | |
| --- | --- | --- |
| | | Per 100g |
| Energy | Kcal | 554 |
| Total Fat | g | 35 |
| Carbohydrates | g | 52.7 |
| Sugar | g | 1.3 |
| Protein | g | 7.0 |
| Sodium | mg | 1080 |
| Trans Fat | g | 0.1 |
| saturated Fat | g | 16.3 |
5.Haldiram's Chips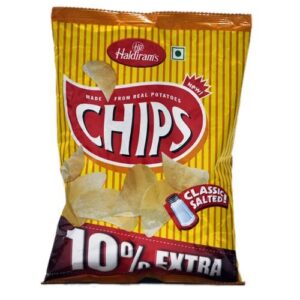 Haldiram's is a major & leading brand of potato chips brands in India.  which also makes a variety of Indian sweets and snacks items. They have many fast food outlets in each city. The brand has many ranges of different flavored potato chips like Halke Fulke, Kettle chips, tangy tomato, pink pepper potato chips.
Story of Haldiram so Far
Over eight decades, a lot has changed about us. We have relocated, expanded, made new production lines & other parts added, opened chain stores & warehouses all over India, and entered new overseas markets. One thing hasn't changed – we are still an interconnected business, committed to serving the highest taste in India through our products.
Our origins can be traced back to a small magical shop in Bikaner founded by Ganga Bishan Agarwal (Haldiram Ji). This very small store quickly became popular and promoted to meet the growing demand for its unique taste in bhujia tasting. Building on this legacy, his grandfather, our father Mr. Shiv Kishan Agrawal led the business to the top it tasted today.
Deciding to take Bhujia beyond the Bikaner border, he moved to Nagpur station in 1970. We opened our first production division to offer a variety of different markets, desserts, and beverages. The success of this project has prompted us to expand and change it into a name, which is an important part of every Indian family.
From our early years, he set the values ​​of preserving culture and quality, and as we grew as a company. All of our products maintain a consistent and simple feel. Its ingredients and food have been selected to reinforce these ideas and are followed to this day. We guarantee that all our products are natural, healthy, and have a home that feels home to them.
Although, Haldiram's is about more than just-food. By creating a strong sense of community and supporting our associates, we continue to feel like a true family business. We carry these values with us as we operate together to serve generations of happy connoisseurs across the globe and continue to be the nation's beloved snack-food company.
Remaining

Top 5  Best Potato chips brands in India 2020
6.Yellow Diamond
The 'Yellow Diamonds' company offers standardized, namken, dips rings, fingerprints, and top-notch Indian manufacturing companies. The company is based in Indore and is famous for its guides & packages with all of its names Kurves, Katori, Wheels, Rings, and Pipes.its come no6 in the top 10 best potato chips brands in India 2020.
NUTRITIONAL INFORMATION (APPROX) in Bingo Chips
| | | |
| --- | --- | --- |
| | | PER 100g |
| Energy | Kcal | 539.42 |
| Protein | g | 7.83 |
| Total Carbohydrate | g | 54.8 |
| Of which Sugar | g | 4.95 |
| Total Fat | g | 32.10 |
| Saturated Fat | g | 15.07 |
| Trans Fat | g | 0 |
YELLOW DIAMOND – EK NAMKEEN KATHA!
Desi Namkeen and an Indian palate are ageless companions, just like chips and dips, rings and fingers or good people and noble ventures.
This is a story of such a venture that brought versatility, a wide traditional and international variety, exceptional quality, and above all, a 'dildaar' quantity of snacks to 1.2 million corners of India. The story of the brand- Yellow Diamond.
Ek Karari Shuruat- A desi idea in pardes!
In the early 90s, an idea struck an Indore-born, US student named Amit Kumat. The idea of pairing something papad-crunchy with a steaming plate of dal-rice…Chips!
His belief in the power and potential of snacks as a sunrise category firmed up then itself. A few years later, in 2004 entrepreneur, Amit Kumat along with Apurva Kumat and Arvind Mehta turned this idea into a home-grown snack offering, named Yellow Diamond.

Swaad zindagi, Swaad hi dharam!
To ensure our customers get nothing but the finest quality of products, we have 5 full-fledged manufacturing units across India; the biggest spreading over 8 acres in Indore.
These units not only boast of advanced technology but are also known for excellent processing & packaging which is done in a fully automatic environment, untouched by human hands. We continuously aspire to beat our standards for which we have the right mix of human resources and operations management that ensure, you simply get the best always.
Chahe koi jaga, chahe koi mauka, khane-khilane me mare hum chauka!
With a turnover of 900 Cr. and distribution in 28 states, today, Yellow Diamond stands among the top snack manufacturing companies of India and continues to win the trust of customers across the globe. And why won't we?
Akhir, "dildaar hain hum!"
Doritos chips nacho is produced by PepsiCo India, a famous premium brand. The brand has its signature flavors called Doritos Nacho Cheese Tortilla chips, which ensures a crisp and intense taste. It is one of the best chips brands in India. The brand offers the ultimate taste and crunch of chiilla chipsilla chips nacho.
NUTRITIONAL INFORMATION (APPROX) in Doritos Chips
| | | |
| --- | --- | --- |
| | | Per 100g |
| Energy | Kcal | 505 |
| Protein | g | 6.4 |
| Total Carbohydrate | g | 63.8 |
| Of which Sugar | g | 4.3 |
| Total Fat | g | 24.9 |
| Saturated Fat | g | 11.6 |
| Trans Fat | g | 0.1 |
| Sodium | mg | 748 |
8.Parle's Wafers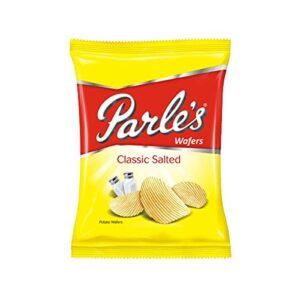 Parle offers a variety of experimental packages of six flavored potatoes, Aloo Chaat, Tangy Tomato, Classic Salted, and Piri Piri. The Indian food company is famous for its Parle-G biscuits, it is the largest biscuits company in India along with KrackJack, 20-20, Hide & Seek, and Milano.
9.Kettle Studio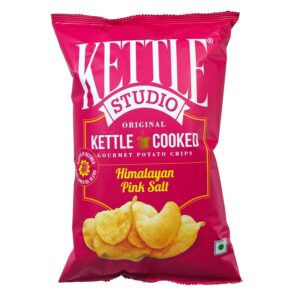 Potato chips are tossed with spices and herbs. A warm dish cooked with cheese has the aroma of sunflower oil and fresh spices.
Chips are a combination of the best oils and natural ingredients. The brand delivers cakes baked in a modern way.
The available flavors are Crushed Paprika with Exotic Spices, Rock Sea Salt & Balsamic Vinegar, Naked Sea Salt, Mature Cheddar & Red Onions, and Sharp Jalapenos & Pepper Jack Cheese.
What I like about THis
This is a Vegetarian product.
Kettle cooked potato chips

Great crunch

Thick cut slices of potato

Free from gluten

Free from artificial coloring
The Malaysian brand is one of the best brands of snacks and sweets. Quality chips made from the brand are available in a variety of styles such as potato chocolate, potato meat, and cucumber cake. Chips are made from the finest fresh potatoes which give it a natural flavor. It is a good combination of good taste and great fun.
Conclusion:
Jazztrend hopes and wishes after reading this article you have now all the knowledge about the Top 10 Best Potato chips brands in India ( 2020). All of these brands are well verified and validated by Our Team as well as consumers. You will find your fit in this list as the list contains Chips for every range and age group guy.
THANK YOU FOR TIME AND  LOVE ……
Recommended to Read: Top 10 Best Brown Rice in India
Recommended to Read: Top 10 best green tea brands in India